The essence of the theme park is the experience. Therefore, theme park designers will spend a lot of time on every detail in the park, trying to use the exciting roller coaster, interesting performances and delicious food to make every visitor feel the magic of being in another world. Every part of the theme park experience is important, and every detail is designed to amplify the sensory stimuli of visitors; the same is true for audio, video and lighting.
As far as lighting is concerned, there are a series of intricate factors to consider in order to create the ultimate end result, many of which are related to outdoor lighting. After all, the large number of led amusement lamp in the theme park are located outdoors. Despite the difficulties, there are still some routines to follow.
Architectural lighting is often used outside the buildings and attractions within the theme park. Here, wall washers are more common, which can make the building look more distinct and more spatial. Of course, in terms of architectural lighting, there are many led amusement lamp that can be used to make a big push, such as LED video lights. The LED light strips can be transformed to freely combine shapes to create a unique visual experience and dynamic lighting effects. A variety of video content, including advertisements, creative shorts or simple dynamic patches, can be represented by these various LED strips. Even if you want to achieve interactive effects, it is not difficult.
If you want to create even more subtle visual effects, such as decorating roller coasters, Ferris wheel, etc., adjustable LED light strips are even better. A typical practice is to mount a miniature lamp bead, a single adjustable LED lamp, in an important area. For example, a common mounting location for miniature light beads on a wooden roller coaster is the support beam. This type of installation gives visitors the experience of a sea of ​​lights, but it does not affect the overall appearance of the roller coaster. The IP-rated performance of these luminaires ensures a long service life. In addition, the lighting effects can be changed according to the seasonal; for Christmas, the red and green theme can be displayed, and Valentine's Day can be switched to pink or red.
In addition to outdoor lighting, miniature light beads can also come in handy for indoor experiences. Lighting applications indoors: The 4D experience is one of the typical applications. In the case of 4D riding, the role of lighting is to create a more realistic sensory experience for visitors. If it is a 4D theater, want to make the audience feel in the fireball, the role of the light is to render the entire theater into a fire red. The miniature lamp beads installed on the soles of the audience are responsible for creating a flame-like visual effect on the floor, making the six sides of the theater seamless in visual performance.
For indoor entertainment projects such as 4D riding, lighting is undoubtedly important. However, these indoor entertainment are not all static. For example, 4D riders need to take a mobile car to complete the entire project experience. Moving headlights are more common in such dynamic entertainment projects, such as the unique feeling of being followed by a light to make visitors feel like they are being tracked by a helicopter.
In addition, moving head lights can also be used for outdoor projects. However, it is first necessary to determine if the selected fixture has an IP rating, as most moving headlamps are not designed for outdoor use. Of course, if you want to use this type of luminaire for a long time in an outdoor project area such as a performance area, it is recommended to use an acrylic cover. Durability is a key factor in the application of luminaires to outdoor projects in theme parks. The luminaires in the theme park usually need to work 12 hours a day, 365 days a year; in response to such a harsh working environment, this puts extremely high demands on the service life of the luminaire; not only the internal structure, but also the appearance color. Wait.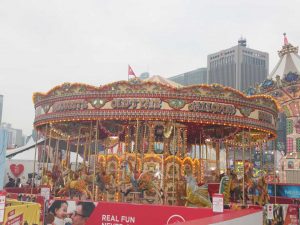 For theme parks, investing in high-output, high-quality lamps is necessary. Although the initial investment of such lamps is higher than that of low-quality lamps, in the long run, the price/performance ratio is higher. Cheap and low-quality lamps almost need to be replaced every year. In the long run, the overall cost is higher than that of high-quality lamps. And one-time investment in high-quality lamps can be used for almost 10 years. In addition, even for a variety of demanding outdoor applications, high-performance high-quality lamps can easily cope with, in contrast, cheap led amusement lamp are much less.
The led amusement lamp application in the theme park can be described as a variety of applications, but to create an immersive experience for visitors in a wide-ranging, multi-project park, lighting is an element that must not be ignored.