How do you choose a quality LED lighting manufacturer?
ZhongShan Ruichuan Lighting Co,. Ltd. is a led lighting manufacturer from China which was established on January 25th, 2005 .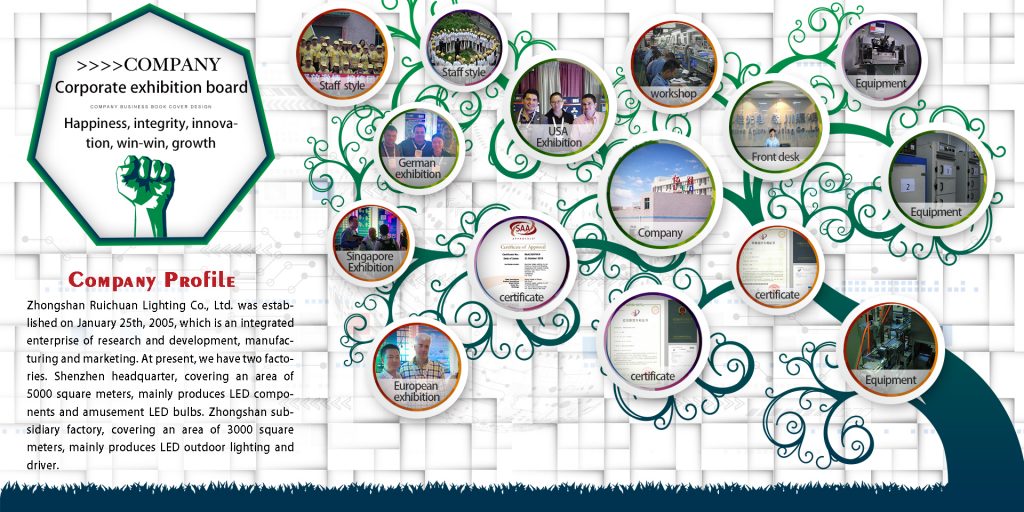 With a fast-paced evolution of the lighting industry, the number of manufacturers have also increased drastically. This evolution has made our task of selecting a quality LED Lights manufacturer more complex. The reason is, the market is enriched with both; high and low quality LED light manufacturers. Reality is not always same as promising in all LED lights. Customer does not always get what they expect from products. So, the points to consider when choosing a quality LED lighting manufacturer are described below:
Market Value– When it comes to choosing a quality LED lights Manufacturer, the first thing that should be taken into consideration is the Market value of the firm. It show how the brand is performing in the market and whether its products are in demand or not.
Processes- If a supplier does not have a complete production process, then it cannot guarantee the delivery of the product.
Manpower quality- People are the creators of products. If the quality of employees is not good, the quality of products cannot be guaranteed.
Sourcing - The purchase of raw materials directly affects the delivery of the product. If there is no complete procurement route, the delivery of the product cannot be seen.
Experience - An experienced supplier can provide perfect trading, confirmed delivery, good quality, caring after-sales service, etc.
Involvement period- It is also a major factor to consider as to how many years a firm has been engaged in this sector. If a company has an experience of more than 3 years and is still in the limelight then it implies that the firm has an expertise in this sector and will surely deliver quality products than the newbies in the market.
Advancement– It is highly considerable whether a firm is enhancing its manufacturing unit with the latest machinery & technologies or not. A quality manufacturer is always strived to bring the changes in themselves that hit the market of the same niche.
Warranty terms: means that what is the term of warranty for products. This is also matter for product selling.
Experience: this is major part of every firm because experience plays a crucial role in a firm products reputation.
These all things matter for choose a quality LED lighting manufacturer.Apart from that, these all things ply a paramount role in Led lighting companies in China.