In recent years, LED applications have been expanding, from general lighting, display backlighting to medical lighting, plant lighting, automotive lighting, and other innovative applications, almost infiltrating into all aspects of people's clothing, food, housing and transportation. Innovative applications and related technologies for the LED industry in 2018 include LiFi luminaires, inductive LED street lights, biotherapeutics, and more.
1.LiFi luminaire
At the first China International Import Expo (Jibo Fair), Yannuofei demonstrated the first commercial application solution for visible light wireless communication technology (LiFi). Unlike WiFi using radio waves, LiFi uses visible light waves with higher frequency than radio waves for data transmission and reception, providing users with a stable, high-speed broadband data connection.
The Lifi technology is very simple to use. The Ethernet cable is plugged into a Lifium-enabled luminaire, and the luminaire is immediately a wireless router. The built-in modem pair makes fine-tuning of the frequency of the light in a range that is unobservable to the naked eye, providing a powerful network connection and sending downstream data. Simply plug the USB LiFi wireless network card into the laptop or tablet to receive the data, and the USB LiFi wireless network card sends the signal to the fixture through the infrared.
LiFi technology uses light waves to spread data and information, with ultra-fast transmission speeds of up to 30M/s. At such a high rate, even if two high-definition movies are simultaneously opened, the video call can be smoothly performed. In addition, because the light source is ubiquitous, LiFi technology can also be applied in places where security units or WiFi cannot cover. It can even be said that LiFi technology can be applied as long as there is light and light. In places where banks need to be kept secret, the occlusion of light waves creates natural network isolation, which makes hackers lose the opportunity to intervene.
At present, most of Zenofei's lighting products have been able to support LiFi technology, including Philips PowerBalance gen2 and Philips LuxSpace downlights. Among them, Philips PowerBalance gen2 is an ideal choice for offices and schools due to its wide range of applications, while Philips LuxSpace downlights are suitable for areas with high security requirements, including hospitals.
2. The world's thinnest automotive line lighting module
Recently, LG Innotek introduced the "Nexlide-L" line lighting module for cars, which emits bright and even light from sharp lines with a width of only 3mm.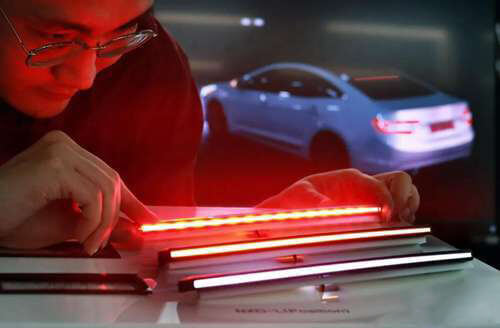 According to LG Innotek, the thickness of the Nexlide-L is currently the thinnest for automotive exterior lights, and quality and mass production testing has been completed.
It is reported that LG Innotek uses its proprietary "LED lighting structure design technology" to achieve the ultra-thin line lamp Nexlide-L. In addition to the linear shape, the Nexlide-L can be shaped to include a variety of shapes, including curves and waves.
Nexlide-L can customize the brightness of the product according to its application and installation location. Light can be designed in a variety of ways, for example, the brake light and high brake light (CHMSL) emit red light, the turn signal light and the side mirror light glow yellow. The position light glows white.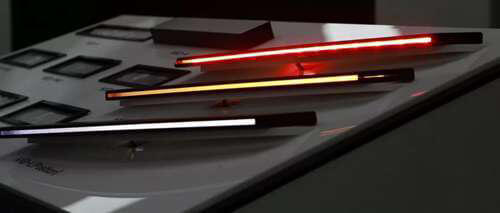 The module's excellent luminous efficiency produces glare of up to 7,500 nits (cm/m2). This high brightness level meets the requirements of the brake light, so the assembly can be used for automotive brake lights.
An official at LG Innotek said: "Nexlide-L is a lighting module that can improve the design, quality and safety of the car at the same time."
3. LEDs and sensors are woven directly into textile fibers
The British journal Nature published a new study in materials science: the MIT team used a new manufacturing method to directly splicing light-emitting diodes (LEDs) and sensors into textile-grade polymer fibers. The process can be used to develop new wearable technologies that enable optical communication and health monitoring.
Semiconductor diodes capable of emitting or detecting light are essential components of communication and sensor technology. If they can be incorporated into fabrics, it is expected to create new wearable electronic devices. However, it turns out that combining the functionality of semiconductor devices with the scalability of fiber-based textiles is a tricky business.
MIT researcher Yoel Fink and colleagues, starting with a larger polymer preform, embedded the semiconductor device into the hollow channel of the preform. Then, the preform is heated and stretched while threading the wire into the hollow passage to form an expanded fiber bundle. In this way, the electrically connected light emitting or photodetecting diodes are evenly distributed axially within the fiber bundle. The process is inherently scalable and can produce functional fibers hundreds of meters long. Once stretched, the fibers can be easily woven into the fabric.
The research team put these diode fibers into a standard domestic washing machine for ten laps and found that their performance was not damaged, proving their durability. They also showed that a two-way optical communication link can be established between two textiles containing light detecting and luminescent fibers. Not only that, but this smart textile can also be used to measure the wearer's heart rate.
The researchers concluded that this new manufacturing process enables people to create textiles with more advanced features, and that smart textiles and wearable technologies will become more sophisticated in accordance with their own "Moore's Law."